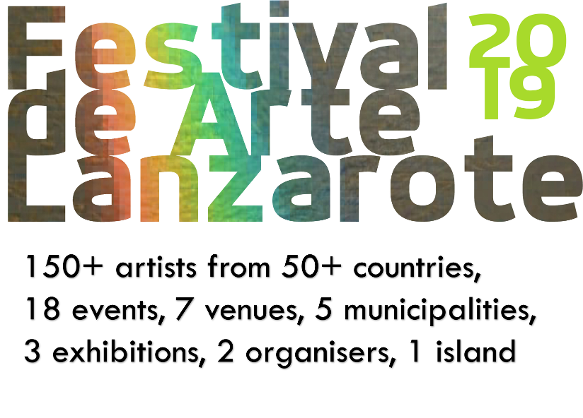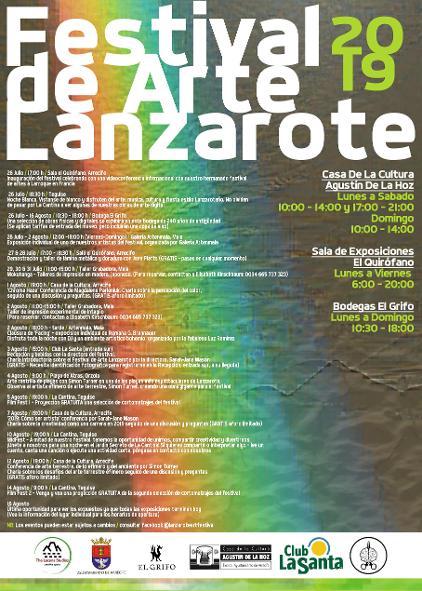 Background
2019 was the inaugural year of the Lanzarote Arts Festival (LAF), hosted by The Lacuna Studios and twinned with the Larroque Arts Festival, France. The Larroque Arts Festival started in 2010, emerging from a series of international student engagement projects led by Prof. Kenneth G. Hay (University of Leeds) and Doc. Mgr. Josef Danek (University of Ostrava). Since the first festival in 2010, it has grown bigger and more varied; often with exhibiting artists from over 30 countries each year. In addition, artists from c. 20 countries visit the festival in person to create work, meet local artists and take part in a full schedule of events.
The goals of the Larroque Arts Festival are; To maintain the highest quality artistic standards; To promote contemporary art in a rural environment; To promote an inclusive exhibition space and help artists and the community.
The Lanzarote Arts Festival's aim is to engage in a didactic and cross-fertilising project with the Larroque Arts Festival by working with a similar set of goals to help facilitate contemporary artists from around the world to exhibit in Lanzarote.
We hope; To introduce quality contemporary (and sometimes challenging) art to isolated communities who have limited access to Arts & Culture; To offer something local/translocal for both resident and visiting artists through stimulating local culture and creatives; To enlarge networks and provide a base/point of contact for the exchange and sharing of ideas.
Theme: Surface/Support
The theme "Surface/Support" is taken from perhaps the last modern art movement from France. The experimental movement named "Support/Surface," and led by the influential Louis Cane.
After the failure of Situationism and the socio-political May 1968 events in Paris - the Support/Surface artists had to reconsider the function of art; what it should be; what it could be…
Acting almost in direct rebellion to the political scene of the time, they chose the most 'establishment' of artistic mediums to do so; placing painting at the centre of their exploratory practices. However, despite this traditional material choice, they rejected many aspects of 'past art' to try and find an art suitable for the 1960s/1970s.
Whether they were successful/failed is open to discussion.
"Support/Surface" was the last international avant-garde art movement coming from France and active artists were in touch with the Abstract Expressionists in the USA. Following this period Pop art, neo Dada, Performance, video art, Conceptualism, Postmodernism and so on all took place. These were and/or are all trans-national movements.
The theme is also open to any painting, printing, sculpture, film which emphasises the surface or the medium rather than the content/subject.